Neonatal IEM
Inborn errors of metabolism (IEM) are an important cause of acute illness in newborns. Presentation may mimic common neonatal conditions such as sepsis. Prompt detection requires a high index of suspicion and the early measurement of biochemical markers such as blood ammonia. Diagnosis is important not only for treatment but also for genetic counselling.

In Neonatal IEM – pregnancy and delivery are generally uneventful. The newborn baby with IEM is normal for few hours or first day to 3-4 days after which the disorder presents due to intake of dietary protein or sugar (Lactose, Fructose). Neonates with IEMs are often misdiagnosed as Sepsis or other disorders. Sepsis often accompanies IEM but may confine the diagnosis. Neonates have limited responses to illness and prominent ones are poor feeding, lethargy, coma, failure to thrive, seizures, acidosis or ketosis. A high index of suspicion and follow-up diagnosis is necessary when the following symptoms are present -

Parental consanguinity (marriages in relation).

Positive Family History

Symptoms onset a few hours to days after feeding (poor feeding, lethargy, seizures, vomiting, diarrhea, coma, hypotonia)

Ketosis, hypoglycemia, acidosis

Unusual odor in the urine

Jaundice

Dysmorphic features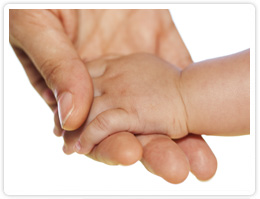 Newborn Screening

Newborn Screening or NBS as it is commonly called, is the process of screening newborn babies for metabolic disorders, genetic diseases, blood diseases etc.

Newborn Screening refers to tests carried out on a newborn baby's blood to detect Inborn Errors of Metabolism (IEMs). These tests cover a wide variety of diseases and help in preventing future issues. Early detection may, in some cases, even suppress a disorder entirely. Screening of newborns is most effective during the neonatal period, which is why the blood sample is taken shortly after birth. Newborn screening is carried out by taking a few drops of blood from the baby's heel 24 to 48 hours after birth.

Normally if there are irregularities in the initial screening test, the blood is sent for further tests. Full reports are then submitted either to the baby's pediatrician or the parents. Based on the reports the baby can be treated and the family counseled. Many countries across the world have made newborn screening mandatory.

Newborn Screening in India

In India, the health care priorities are still limited to reducing the Infant Mortality Rate and meeting basic infrastructure requirements. The Government of India/state and union territories governments are yet to have a mandatory screening program for newborn babies.

Now few healthcare centers in India are offering mandatory new born screening and other few are offering new born to screening as an option to the parents. At times State Government of Goa, Kerela, Union Territory of Chandigarh, Rajasthan (JK Lone Hospital, Jaipur) , Tamil Nadu (Vellore) , Greater Mumbai and Delhi Government also launched Mission Neev on new born screening. Indian Council of Medical Research (ICMR) has also made new born screening neccessary for few disorders. UMMID is one such project undertaken by Government of India that focuses on newborn screening.

Also Government of India has been focusing on rare disease policy and in that draft new born screening has been given importance to.

Awareness about new born screening has also made parents informed about the process.

Over a period of time the health care scenario in India may change and the screening system might be made mandatory in all hospitals across nation. It will depend a lot on the awareness created by us and the positive campaigns undertaken to make newborn screening compulsory in India. Newborn screening may be an expensive proposition today but this scenario can change if the government makes efforts to make it mandatory. As most countries in the EU and some parts of Asia and US have already made it compulsory, the costs have also dropped in those countries. If a similar program is adopted in India many lives can be saved because a bigger population will be able to afford it.